Bespoke Design
Nothing makes your wedding stationery more unique than when your invites include specific, personalised aspects of your wedding day.  Your wedding venue is a perfect example of this - so many make the most perfect addition to your wedding invitations, setting the tone for your day and introducing your guests to the location before the big day itself.
I hand draw and paint all of the venue illustrations I work on from scratch using a variety of different mediums - the most popular being watercolour painting or pen and ink with a fountain pen.
The venue illustration is usually a great place to start to shape the design for the rest of the wedding invite suite.  We can then match the rest of your invitation design to create a beautiful, cohesive and personal wedding stationery style.  Painted florals (that match your wedding flower choices), hand calligraphy, initial monograms, illustrated location maps or even cartoon sketches of you and your partner are all popular options to tie your design together. 
Check out a few recent Bespoke Designs I've worked on for couples.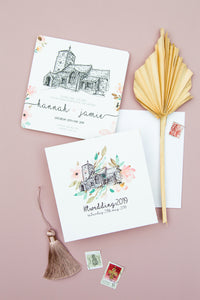 Ordering your Bespoke Wedding Stationery
The Process
 1. Drop me an enquiry by filling in the contact form on the website or send me an email to; emma@alfandalba.com
 2. We'll schedule in a discovery call to discuss your ideas and what you might like your wedding stationery design to look like.
 3. I'll then build a detailed quote for you based on our meeting; covering the design fee along with all relevant printing and trims costs based on your specific requirements
 4. If you're happy with the quote and wish to proceed with the project, we can discuss dates and I'll book you into my diary. You'll receive a copy of my terms and conditions (available to view in the footer below), and you'll be required to sign a contract. The first 50% of your design fee is due at this point.
 5. I'll then work on your design, sending over the digital proof for your feedback and making any amendments or additions until you're happy with it.
 6. Once the digital proof has been signed off and everything is ready for printing, the balance 50% design fee along with the printing costs will now be due.
 7. I'll then send everything to be professionally printed, double check everything is perfect and then arrange packaging and delivery to you.