Alf & Alba Creative Design Studio
Alf & Alba Design is an illustration focused design studio, based in Lancashire, specialising in one of a kind, hand drawn, painted & beautifully curated wedding stationery items. Run by Emma Weston, from her home studio in Brierfield.
'I just love weddings and the creative freedom we now have to make the day completely 'yours'. From save the dates, to full wedding invite suites, right the way through to your on-the-day wedding stationery items; such as table plans & place settings; we'll work together to create a design that is completely unique to you. I want your guests to be blown away with how thought-out, creative and bursting-with-personality your wedding invitations are, building that excitement and anticipation as to what they can expect from the big day itself.'
Illustrated Wedding Stationery
Hello! It's lovely to have you here. I'm Emma, and I'm an illustrator and artist based near Burnley. I create beautiful, one-of-a-kind illustrated wedding stationery for couples who want wedding invitations that are laid back, cool and totally personal to them.
Browse through the collections or fill in the contact form here and I'll send over some more information on how we can work together.
Submit a Contact Form

Bespoke Wedding Invitations
I love to create wedding stationery that is eye catching and totally unique. If you choose the custom wedding stationery design option we'll work together through every step of the development, from initial ideas to final printed invitations. Find out more on the process and what's involved here.
Bespoke Design
Studio Collection
The studio collection provides a range of contemporary wedding stationery designs for you to browse through and order directly from the site. Each piece is customised with your personal details and you have the option of amending the colours or adding in things like wedding venue illustrations or location maps if you wish.
Browse the Collection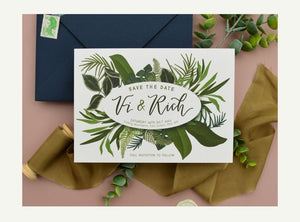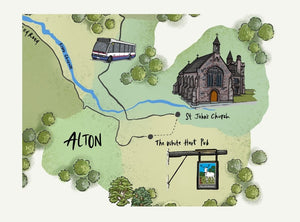 Illustrations
Perhaps you have opted for a wedding website to tell your guests all they need to know about your wedding. Or would prefer to send a digital invite to guests based overseas, but would still like these to be creative and personalised to match your big day. If this is the case, the option of digital illustrations might be for you - these could be drawings of your venue, a personalised map of your wedding location or even some cute drawings of you and your partner, your children or even your pets?
Learn more
Workshops
Group painting, illustration and calligraphy workshops take place in Burnley, Blackburn, Preston and the surrounding areas and run throughout the year. These classes provide the perfect opportunity for you to relax, unwind and learn a creative new skill; usually with a brew and a piece of cake! I teach a variety of different creative classes in Lancashire, catering for a range of different abilities. Tap the button below to check out the next available creative workshop near you.
Check out the classes